The toolkit for integrators to connect different brands of fire panels
See how MessageNet Connections extends fire panel integration to a wide spectrum of enterprise-scale communication technologies and systems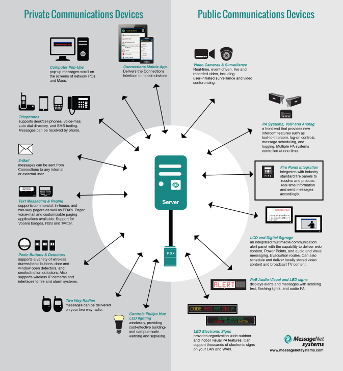 Some Key Features
Interconnect fire panels of different makes, models, and brands
Unify reporting, logging, and monitoring
Connect fire panels of different brands together.
Support a variety of different interfaces, including contact closures
Integrate voice evac functionality
Interpret panel data to send out automated messages.
Keep detailed records of all communications from all devices.
MessageNet Connections' integration is a cost-effective way to unify your existing fire panel interfaces, for example Honeywell, Siemens, Simplex, and Edwards, with other safety and security systems. MessageNet can integrate with a plethora of devices and systems and can connect them to each other to build one unified system. Whether there are multiple brands of fire panel in one organization or several disparate security systems that need to communicate with one another, MessageNet can connect them into one easy-to-use, efficient, system.
Quite simply, it's the most powerful tool you can use to enhance safety and security systems and their effectiveness during emergency and non-emergency situations.
See More