MessageNet Connections Mobile provides easy access to all Connections functionality and can deliver messages to any connected device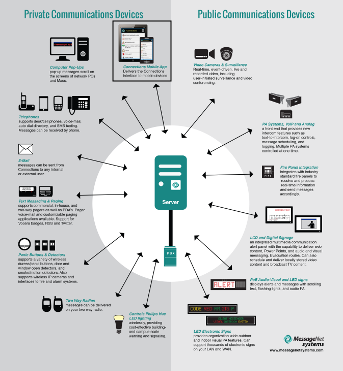 With a single touch, our user-friendly interface performs a multitude of actions, providing access to the full spectrum of MessageNet Connections' capabilities.
Some Key Features
Sends emergency alerts, such as for active shooters or lockdowns
Launches messages with a single touch
Uses location-aware technology on mobile-devices
Message-sharing between users
Greatly improved ease-of-use through highly simplified screens
Supports Apple and Android smartphones and tablets, PCs, and Macs
Simplifies everyday messaging and communications
User-customizable and sortable messages
Reply capabilities supported by the in-app inbox
Connections Mobile provides access to the full platform-scale message-launch capabilities on mobile devices. Its simplified user interface greatly increases accessibility and ease-of-use. Connections Mobile can use the location-tracking ability of many mobile device for increased situational awareness and enhanced messaging and reporting capabilities. Screens are easily customizable to meet the specific needs of individual users.
Quite simply, Connections Mobile is a powerful addition to the Connections software platform, which you can use to enhance effectiveness during emergency and non-emergency situations.The diagram to the left illustrates the spectrum of functionalities accessible by Connections Mobile.
See More