← Back to Blog
What Is PA 2.0?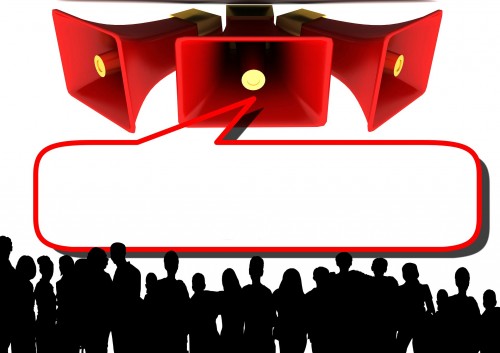 Public address systems have been around in some form or another since the usage of megaphones in Ancient Greece. Modern paging systems with electric loudspeakers were first developed in 1910. PA has been used as an emergency communication system for decades. But in 2019, the nature of emergencies and people's needs have evolved and are now very different than they were in 1910. So how can paging systems evolve to meet today's needs?
PA 2.0 Is Inclusive
Traditional paging systems can only reach the people who are able to hear the message. Anyone who is hard-of-hearing will be excluded from a potentially life-saving emergency message. Even hearing people might be on the phone, listening to music loudly, or wearing noise-cancelling headphones. By the time people realize a message is being spoken, it may be too late to hear it. Emergency situations are notoriously noisy environments. An explosion could easily render everyone in the vicinity temporarily, or even permanently, deaf. Even in the absence of an explosion, people could be panicking and screaming, making a PA announcement difficult to hear. That's a lot of people who might not be able to hear a traditional PA message.
Everyone should have equal access to information. Investing in PA 2.0 can help you make sure that no one is left behind in an emergency. Traditional paging is a component of PA 2.0, but there's so much more to it. PA 2.0 is designed to reach everyone, regardless of their ability to hear an announcement.
PA 2.0 Is Audiovisual
PA 2.0 is an audiovisual paging system. While the PA message plays over the speakers, text scrolls across the screen so that everyone can read the message as it's spoken aloud. The text can continue to scroll long after the audio message has finished, so anyone who missed it can still get the same information. Many people find a visual message to be more authoritative than an audio one and may act more quickly. With the combination of audio and visual messaging, your emergency message can reach everyone, save lives, ensure your organization is ADA compliant, and avoid lawsuits, which can occur even in the absence of criminal liability.
PA 2.0 Is Secure
With a traditional paging system, anyone who knows the correct number can pick up a phone, dial, and make an unauthorized announcement over your PA. To prevent unauthorized usage of the system, PA 2.0 should be secure and require authentication to log in to the system. MessageNet takes this a step further and logs all log in attempts so that if a security breach does occur, it's easy to discover where and when it happened and who's password needs to be changed. Perpetrators have taken to trying to use your emergency communication system against you. In the Parkland school shooting in Florida, for example, the shooter activated the fire alarm in order to lure students outside, where they were vulnerable. Securing your emergency communication system against unauthorized use is vital to saving lives.
PA 2.0 Reduces the Risk for Errors
Speaking live over a paging system risks errors and mistakes in messaging. In emergency situations, stress and panic can affect the person speaking the message live and result in inaccuracies. Plus, to continue the emergency message, the person making the announcement would have to stay to keep speaking it. With PA 2.0, messages can be spoken live, but that doesn't take full advantage of the features offered. Audio message can be pre-recorded and played back so that their accuracy is verified before playing. The best option, however, is to set up a text message ahead of time, which uses built-in text-to-speech functionality that sounds almost like a real person to take advantage of the audiovisual capabilities. Once the message is launched, everyone can evacuate or shelter in place as needed instead of someone having to stay to keep the message going.
PA 2.0 Is Inexpensive
MessageNet's Omni is a PA 2.0 device that is designed to be an inexpensive all-in-one solution to meet the critical and emergency communication needs of organizations. Other all-in-one systems are cost prohibitive or are expensive to install. Less expensive alternatives involve creating your own all-in-one system with a variety of disparate devices that clutter the walls and can be expensive to purchase and install. Omni combines all of the features of PA 2.0 – audiovisual paging, flashers, panic buttons, and more – into one device that is inexpensive to purchase and easy to install, saving you money on installation costs. You can't put a price on safety, but the less expensive the system is, the more of it you can afford to deploy.
PA 2.0 Is the Future
PA 2.0 is the future of emergency and critical communication. Its inclusive nature is designed to make sure that no one is left behind in an emergency. It uses 21st century technology, including mobile apps, Bluetooth, and WiFi, which more people today are familiar with and comfortable using. Older technologies alone worked for a long time, but don't necessarily meet the needs of modern organizations and the situations they may face. Modernize your critical communications with PA 2.0.