The convergence of digital signage with PA and security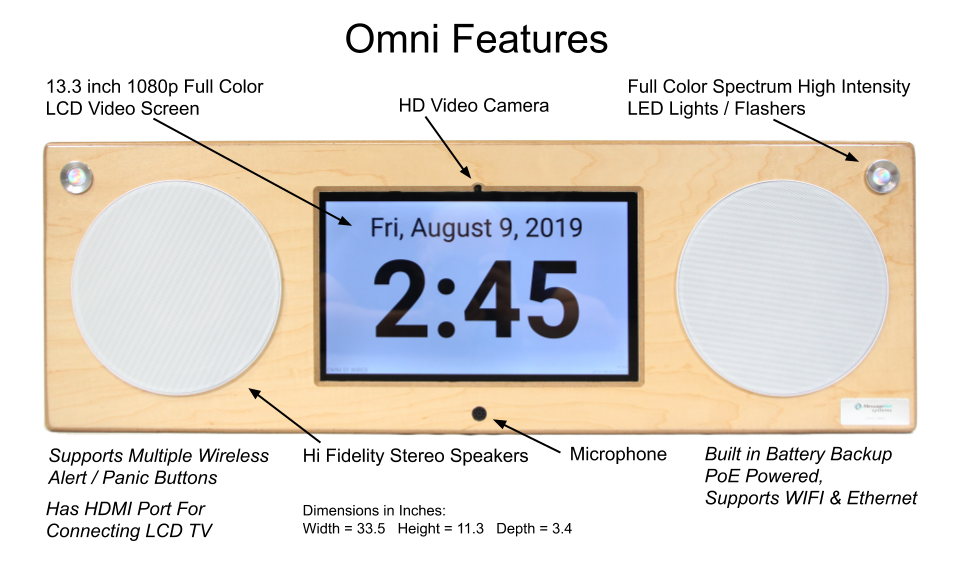 Affordable
Affordable hardware – everything bundled into one device
Minimal installation cost – hang it and plug it in!
Technical expertise not required for installation
Built-in battery – eliminates need for costly UPS
Powered by an energy-efficient PoE power injector (included)
WiFi – automatically switches to WiFi if Ethernet fails
Low-power device – saves electricity
Ultra low-cost wireless panic buttons
The all-in-one Omni device is easy to install and use. It is designed to meet all your emergency and every day mass notification needs in a single, dedicated wall device.
Key Features
Ethernet IP intercom system
Visual public address
High-quality stereo speakers
Synchronized IP clock
User-controlled videocamera
Wireless Bluetooth panic buttons
Room phone using Bluetooth headsets – coming soon!
Powered by energy-efficient PoE injector
Runs for hours on built-in battery during power failures
Controlled by easy-to-use mobile app
Super-bright multicolor flashers and emergency lighting
Text-to-speech, live PA, and unlimited pre-recorded audio
Easy-to-read large scrolling text
Display videos, presentations, and web pages
Also displays on LCD TVs via HDMI
With personal devices such as mobile devices and computers increasingly using full-screen apps that locks out incoming notifications, the dedicated Omni device will ensure that everyone in the room receives the right information at the right time. It's not enough to know that there's an emergency – you also have to know that everyone else received the necessary information as well.
See More